[2016/12/22 Update]
JAL started a new campaign on how to use your miles - and this one is quite special! For merely 6,000 miles, you can fly from Tokyo to any destination within Japan! Okinawa, Hokkaido, Kyushu - it is all possible. The program is called "dokoka-ni-mile", which literally means "anywhere-miles". So how does it work?
【スポンサーリンク】

 What is JAL's "dokoka-ni-mile"?
JAL started a new campaign on December 12, which is pretty unique! For just 6,000 miles you are allowed to fly from Tokyo to anywhere within Japan!
The thing is that the destination will be chosen randomly by JAL for you. However, before they chose for you, you are given four cities as candidates. If you don't like the selection, simply hit the re-search button and four new candidates will be displayed. How can do this as many times as you want. Once you are OK with the four candidates given, hit the application button and wait for the final result on your destination to come in. 
You can apply for "dokoka-ni-mile" easily by clicking on the link below:
https://sp.jal.co.jp/jmb/dokokani/index.html
How much do you safe with "dokoka-ni-mile"?
6,000 miles is a pretty bargain! For example, if you were to fly from Tokyo to Osaka, this would cost you around 9,500 to 12,000 miles. If you wanted to fly from Tokyo to Fukuoka, this would sum up to 11,500 to 15,000 miles. A flight to Okinawa's most southern island Ishigakijima would cost you even 20,000 miles with JAL. Normally, 1 mile on economy class is worth about 2 Yen. So, 6,000 miles equals 12,000 Yen here. This means that any domestic flight that you get with this campaign is for just 12,000 Yen. Pretty cheap!
To give you a specific example: I was lucky enough and could land Amami-Oshima with "dokoka-ni-mile". A flight with JAL at the exact same date and time would have cost me a whopping 46,000 Yen! So 6,000 miles for a 46,000 Yen flight. 1 mile equals 7.7 in this case! But even if you cannot get Amami-Oshima or Okinawa, you mostly get about 4 Yen per mile. As said, normally 1 mile is worth 2 Yen, so you can fly for just half of the price or even lower with this campaign!
Below a chart of how many miles you would normally need to domestic destinations with JAL:
What are the demerits of "dokoka-ni-mile"?
1) This is the most obvious one: you cannot chose the destination of your flight. Yu are given four candidates however and you can hit the re-search button if you don't like the selection.
2) Once you applied for "dokoka-ni-mile" you cannot change or cancle the flight anymore! Normally, if you cancle a flight booked with miles, you get them back, minus a penalty fee, which is 3,100 miles in case of JAL. So, you need to be sure that you will get on the plane for the flight given to you.
3) You can only fly from Tokyo, or Haneda Airport to be exact. If you live in Kansai or some other area in Japan, then this program might not appeal to you.
4) There are some days when you cannot fly via "dokoka-ni-mile". These restrictions apply mostly for the busy days around New Year and other super busy times throughout the year. Not too many days though, fortunately.
From Haneda:2016/12/26~2016/12/31日, 2017/3/17, 3/18, 3/24, 3/25
To Haneda: 2017/1/1~2017/1/5, 3/20, 3/21, 3/26, 3/27
「Dokoka-ni-mile」: Which destinations show often?
It tried hit the re-search button about 50, 60 times to see what destinations appear the most. Results were that there are pretty good chances to get on board for a flight to Tohoku, Shikoku and Kyushu. Unfortunately, Okinawa and other island destinations seem to havre a quite low ratio.
1/14-1/16

1/19-1/26

Airport

Times

Airport

Times

Osaka

10

Akita

10

Akita

9

Aomori

9

Matsuyama

8

Kochi

8

Fukuoka

7

Hiroshima

7

Tokushima

7

Shirahama

7

Kumamoto

6

Kagoshima

7

Shirahama

6

Osaka

6

Kochi

6

Miyazaki

6

Miyazaki

5

Kumamoto

6

Takamatsu

5

Fukuoka

5

Aomori

5

Sapporo

5

Kagoshima

4

Tokushima

5

Hiroshima

4

Oita

4

Kita-Kyushu

3

Takamatsu

4

 

 

Komatsu

4
As said, seems that chances for a flight to Okinawa for just 6,000 miles are quite low, but I actually got lucky and hit Amami-Oshima, which is an island between Okinawa and Kyushu. Pretty happy about that!
【スポンサーリンク】

How to actually apply "dokoka-ni-mile"
First, click o the link below to get you to the application page for this program. Once you are there, click on the "お申し込み" button on the buttom of the page.
https://sp.jal.co.jp/jmb/dokokani/index.html
Please enter you JAL account number and your password:
Please select you desired dates and number of people. The date of flying from Haneda must be within one month of your application here.
Once you selected dates and number of people who will fly, hit the "選択" button.
You will be shown four candidates. In my case here it was: Sapporo, Aomori, Tokushima and Oita.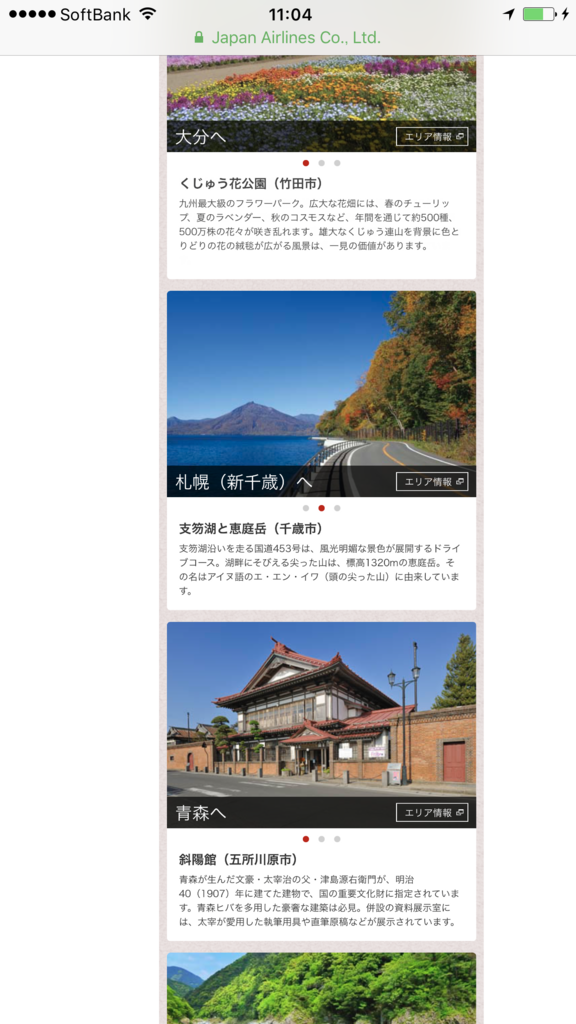 If you did not like the selection, hit the "検索" button once more. It might also be good to try out different dates, which might open up totally new destinations.
For me, all four candidates would have been fine. 2017 is gonna be a good year for travellers :-)
Related posts
【スポンサーリンク】